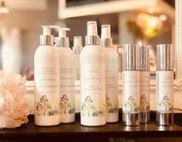 We are often bamboozled by cosmetics and skin care, so in this first of our series of blogs on our fantastic Vegan, Organic and Cruelty free Skincare will make it simple for your to have great skincare and understand why it matters. 
Today we start with our brand new (and gorgeous) Colour Me Beautiful Illuminating Facial Serum.... so what is a facial Serum anyway??? Read on to find out more....
We've all been guilty of not knowing what a FACIAL SERUM is even though we may have one sitting in a drawer at home. 
Serums can be a small bit confusing but after reading this you'll know exactly what to do with yours or maybe tempt you to try our fabulous new Illuminating Orange & Grapefruit Serum that is Organic, Vegan, & has not been tested on animals – so you can try it GUILT FREE.
A serum is a water or oil based light weight moisturiser containing high concentrates of active ingredients. It's designed to deliver theses powerful ingredients directly into your skin & it's made up of small molecules making it particularly suited to this job. 
But wait, does this mean that our wonderful facial serum can now replace your precious hydrating moisturisers and facial oils? The answer is a resounding NO. 
Even though facial serums help the skin retain moisture, that doesn't mean they can replace traditional rich facial moisturisers or facial oils. We still need our moisturisers to create a barrier on the top layer of our skin, and to ensure all the good stuff is kept in. 
At Colour me Beautiful, we love helping you take your skincare the extra mile and in adding a facial Serum you will do just that. 
To help you fully understand why and how to use a serum, then I don't expect you to sit here and read everything now, so I've put all of the info into a handy guide to serums - just drop me an email and I will send it straight to you....or maybe just want to jump straight in and give it a try...want to see and feel what our serum is like, then simply get in touch Lesley@ColourStyleImage.com to receive a free sample or pop in to the studio to feel this amazing Serum – it truly is food for your skin!
RRP £25.80 available from www.colourmebeautifulathome.co.uk/lesley