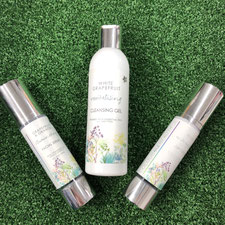 We all want more time on a morning whilst we're juggling kids, life, school run or the work commute. But that first cup of coffee is critical, it sets you up for the day ahead, it's part of our routine and yes, for some people there is a do not disturb or even a do not approach sign until they have had their first coffee - well its the same for your skin too!
Let's start the day with great foundations - here is my fool proof guide to how to start the day.... and YES IT'S SIMPLE!
Beauty and confidence starts with you and simple steps - a routine, and that's what this blog is designed to de-mystify!
Step one: Preparation!
Yes thats right, to get your skin in tip top condition, then you need to give it what it needs!
It needs to be kept clean, fed and hydrated - it's that simple!
With the new Vegan Organic range from Colour me Beautiful, you need 3 simple products to get your skin prepped on a morning.
1. Grapefruit face wash - gentle enough to use every day, no nasties or chemical foaming agents - just a natural cleanser! (RRP £16.20) This face wash not only does great things for your skin, but it smells amazing due to the high content of Essential oils and will really wake you up in the shower.
2. Grapefruit & Orange Illuminating facial serum - which contains (amongst many other natural ingredients) Papaya and strawberry to gently exfoliate and illuminate your skin... it has also got rid of all my rosacea marks and scars too!!! This is my total hero product!! (RRP £25.80) - it's not an oil, it's a gel and it is divine! This is food for your skin - giving it exactly what it needs for the day ahead.
3. Moisturiser - and we have 2 to choose from, depending on your skin. Our Q10 Enzyme Anti-Aging Rose day cream has a SPF of 25 so not only will it help get rid of those 'laughter lines' it will also protect your skin now that the sun has got his hat on again! Or we have a non SPF super moisturising option that is perfect for the sensitive flowers amongst us - often we can react to the harsh chemical SPF's but ours is a natural one - no harsh chemicals have been used and non of our skincare has been tested on animals or contains animal products so suitable for vegans too. 
Step TWO: Prime & Foundation
Next is our Foundation Duo - and until the end of April - this is available to purchase as a bundle for the special price of £31.50 (RRP £39.40 - a saving of nearly £8!!!)
So after your skin is perfectly prepped, shake our Velvet Perfection Primer - instead of 'shake the bottle, wake the drink' from the good old Orangina ads, we now say 'Shake the Bottle, Wake your skin" as this primer is fantastically citrusy from the citrus peal that it contains. It smells super zingy!!!! Our primer is unlike many I have tried, as it not only smells great, but it does fabulous things too! It illuminates your skin and has clever light particles in it to distract from those little lines and blemishes.
So even if you don't want to wear your foundation today, pop a bit of this on and watch the lines disappear! 
Secondly, apply a tiny amount of our water based Morning Light Foundation in your perfect colour. Our foundation is super light but packs a punch!! It glides on as it is super moisturising and not at all 'cakey' like so many modern foundations. It has a soft, subtle smell and not at all chemically fragranced. Your skin will thank you for a more natural approach to foundation. Many of us are very sensitive to foundations and I found that my skin became oilier and oilier and then dry using the same foundations as i had done for years.... this foundation solved all my issues as it was natural, light and water based, so my skin could actually breathe!
Foundation is really key - you don't need much, but it needs to be right for you! DON'T FORGET I offer a free matching service too - so if you're not sure which shade to choose, then I can tell you. If you're local, pop in for a coffee (and yes I do great coffee too) or if you live further afield, I'll happily post out samples.

When you apply our foundation - start in the middle of your face and work outwards. This ensures that you don't end up with too much product at the side of your face - you can choose to either use your fingers to apply the foundation or you can use a brush. Remember, you need the smallest amount of our products.
Yes you can then go on to add whatever look you want to do for the day - or you can just keep it simple - a slick of Chiffon (our fantastic nude lipstick) and a swish of Navy mascara - that is soooooo not a 80's bold blue! Keep it simple - but avoid black for sure for daytime wear - but that's a whole different blog post!
Step Three: HAVE A GREAT DAY!
Have a great day, do what you do and feel fabulous all day long.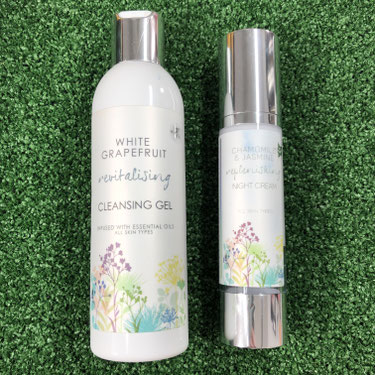 Step Four: The end of the day
Your night time routine is as important as the start of the day. It is equally as important that at the end of the day you clean your face and get rid of all the day... that's not just the makeup you're wearing, but also the environment you live in. As we go about our day we do end up with lots of the day on our face - dirt, grime and pollution. It sounds horrid doesn't it. But you need to clean it off at the end of the day. 
I'm super lazy - and love to keep things super simple. I use the Grapefruit Face Wash in the evening too - it is brilliant at removing every trace of makeup and the environment too. It feels lovely and fresh for the end of the day and actually I've found that I now take off my makeup earlier in the evening so that my skin feels super fresh. 
I then follow it up with our gorgeous Night Cream. This is packed with soothing and replenishing Chamomile and Jasmine - fabulously calming for the end of the day. It feels silky smooth and a fantastic way to end your day.
And that's it, that's the simplest approach to our skincare routine - yes you can add our fantastic exfoliators, masks and toners too but I love to keep things totally simple. 
If you would like to try any of our fabulous skincare or take advantage of our great April Special offer for Foundation and Velvet Primer, then please do not hesitate to visit my ONLINE STORE to order or email me for samples to TRY BEFORE YOU BUY.
.... and that's how you get your perfect and very simple foundations for the day ahead!