So Black Friday is a true American import and is usually the Friday of the Thanksgiving weekend - I guess a little bit like our New Years Day Sales of old. Everyone hits the shops.... but now it's all about the special online offer for this or that!! And we've 'imported' it to little Ol' Blighty and it is rapidly becoming the biggest day for Christmas shopping. The stores compete between the online sales and the instore sales ... and the same store might have totally different offers online or in store - just to CONFUSE us!!!
ARRRRRRRRRRRRRGGGGGGGGGGGHHHHHHHHH - I hear you cry!!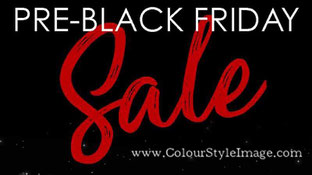 Let's talk a bit about black.
Well black is great - but you know what, if it's not one of your colours then really you shouldn't wear it next to or on your face.... 
No Black eyeliner - was a cry I heard in my studio over the weekend .... and then again at a birthday party for teenagers too. But there are so many other options - my top seller is our MOSS eye pencil - it is sooooo beautiful for people with either a warm skin tone, or blue eyes! It is far more flattering than BLACK!!!
Remember with party season upon us too - you don't have to buy new for the Christmas party and you certainly don't have to wear black. Shop your own wardrobe first and maybe instead of spending £100 on a new dress, treat yourself to a perfect new Lippie? Our lipsticks have just all been re-formulated and are amazing - I even offer a FREEEEEE (yes FRREEEEEE) makeup assessment in my studio to make sure we get your perfect colour. 
A new Lippie at £14.50 is a LOT cheaper than a new dress - and believe it or not, getting the right lippie will allow you still to wear last years LDB and look totally different!!! Wo why not book in for an assessment - I still have a few spaces free.... did I tell you it was totally FREEEEE!?
There is more in this world than black..... so here's the deal, YES sorry there has to be a deal!!! So anyone booking a Colour Consultation or purchasing any makeup from me (excluding BLACK) on Friday, 24th of November will receive 15% discount - YEP only 15% discount!!!!!! 
Why only 15% discount..... well it's like this - I'm not a huge retailer, I don't have a million staff doing a great sales job for me .... there is just little old me!! (and I have 2 children to feed :) ) so it is 15% discount ..... but if you email me at Lesley@cmb-solent.com and order a gift voucher I will also honour the 15% discount too - now I can't say fairer than that can I???
Gift vouchers are now available too and this year are very very beautiful.... so why not give a gift that lasts.... and send your nearest and dearest or a pal a colour analysis voucher from me for Christmas?
Drop me an email - I'd love to hear your thoughts! I hope you enjoyed todays rambling blog.... Let's Ditch BLACK Friday and make it a colourful one instead.