Sometimes clients can be uncertain of just how much impact colour really does make to you, your wardrobe, your mood. 
This week I had the lovely pleasure of working with a client who said just that. 
Could I convince her?? Read the full article and her review to find out more.
Colour Analysis first appeared on the scenes in the 1980's and to be honest for many people it has still got the 'tarnish' of the 1980's thing! 
Often clients remember their mum's or grans having 'their colours done' and some remember the walllets too. It's a bit of a 1980's cliche.
However times have changed and perceptions are gradually changing too! I'm sure you're the same as me - you want to get the most value out of the clothes you have - without having to go out on expensive shopping sprees every time you want to wear something nice! 
Having a colour analysis done can really do this - you can go shopping in your own wardrobe!!
This weeks client had done lots of research, she's in her 20's and wants to understand more about what works for her and why before sorting her wardrobe and waaaaaayyyyy before she buys anything new.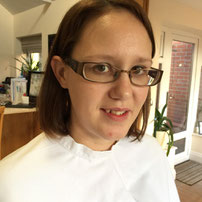 We started at the beginning - no makeup to test which 'Dominant' palette of colours would work. 
Here is a little look at her before photo.
White looks really stark against her makeup free skin - and actually all you can see in this picture is the white drape. 
White just puts everything out of balance and is a really tricky colour to wear.  We established that Softer colours would work better and this is where a world of colour was unveiled!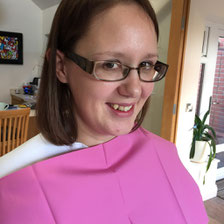 Next we tested the tone of colours that could be worn. We took a look at how her hair colour, eye colour and skin tone worked with the warmer colour and then the cooler colours.
This picture shows how the cooler colours totally wiped out her lovely olivey skin tones - and we became aware of highlights and redness in her skin. 
Here we established that the Soft, Warm & Deep colours were where she would naturally fit.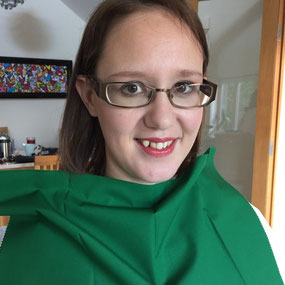 Finally we added a perfectly coloured, natural day makeup - this finishes off your look, making your skin glow and your eyes shine brighter than they ever have done. 
'I look far more awake' & 'I really wish I'd had this done years ago'
Who doesn't want to look more refreshed, healthy, glowing skin.... and 42 colours in a wallet to choose from when your out shopping!!
It really is that easy!! Colours really can transform how you feel and how you look. 
"This is the best thing I have done for myself in a long time! I have come away with a new confidence in choosing clothes and makeup, this is something that everyone should know!"
Yes - having your 'colours done' is a 1980's cliche - however it will still transform how you look at your wardrobe and clothes forever and save you a fortune - ensuring the clothes you buy from TODAY really are perfect for you.
To find out how to start your journey to loving your wardrobe - call Lesley on 0789 44 44 614.