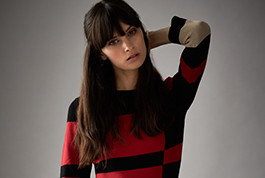 From my previous blogs you'll know sleeves are critical to making a impact on the Style Front but its so tricky to get it right. 
How many of us feel their arms need to be slimmed down or have bingo wings?
How many of us have gone to a dinner dance during the winter and have frozen or had to invest in a pashmina to cover our arms and keep us warm?
Or of course with our fabulous British weather - is it going to be mild or chilly? So we need to love our layers?
 I can see you all putting your hands up - me too.

 In the past there have been campaigns by well known magazines, asking manufacturers to put sleeves in garments – and are they? No they are not.  In summer it was almost impossible to find dresses for clients with sleeves and it seems that this season, evening dresses with sleeves are definitely a rare commodity!
It seems this season is no exception and it is not only relevant to dresses and tops, we see the return of the Gilet in the fashion stakes and the sleeveless coat and coatigan! 
Jackets and coats should have sleeves just by their very nature – right?
The Gilet is often seen as a garment worn to give extra warmth to the core of your body leaving your arms free for practical tasks. Forget practical, this is now to be a core fashion item in your wardrobe.
This season you can choose denim style or be a biker babe. The dedicated denim lovers can 'rock' their jean jackets without sleeves.
They can be thrown over anything and worn with white shirts to sequinned pencil skirts for an 'nod' of Drama. The biker babes are wearing theirs to toughen up summer frocks or layering with winter knits.
Those of us with a more 'Romantic' Style Personality will love the fluffy Faux Fur gilets like our image and of course 'Naturals' can follow the trend too with the gorgeous cable knit 'Cardi-Gilets' that are filling stores like FatFace and M&S. 
I've been totally won over by the Gilet!
So what about the long sleeveless jacket? Long lines, fluid tailoring and premium fabrics are essential for a chic sleeveless jacket.
Style with a super-slim polo top and skinnies to keep it current and casual. Top tip: if you buy one in neutral colours you can mix and match for work to achieve a tailored, sophisticated look.

Sleeveless jackets and coats may not deliver in terms of warmth but they are certainly this Winter's hottest trend!
To keep up to date - don't forget to register for our free monthly newsletter - packed with hints & tips plus offers and events too! 
Registering is simple - just follow the link!
Images courtesy of Phase Eight & CmB