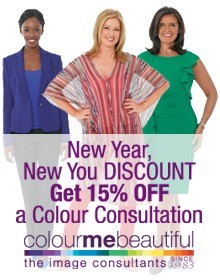 Today has seen the exciting launch of our 'New Year New You' Promotion on ITV's Good Morning Britain! 

As well as offering one lucky person the chance to win a Colour Me Beautiful Full Image Makeover on the Good Morning Britain website, Colour me Beautiful are offering 15% OFF a Colour Consultation - of course CMB-Solent are delighted to be part of this campaign too!!!
This offer is for a limited time only.   You must book by 6th February 2015 and the Colour Consultation must take place between now and 31st March 2015.  
Simply call Lesley on 0789 4444 614 and quote the "Good Morning Britain New Year, New You Colour Offer" when you book your consultation.
To find out more about what to expect in a Colour Consultation click here.
I'm looking forward to helping you on your journey to a colourful and stylish new you! 
If you would like to see how you could also win a £250 full Image Consultation on the Good Morning Britain's website  Click Here or also via the Lorraine Show Click Here
Colour me Beautiful 15% Discount Terms and Conditions
Prices for a Colour Consultation at CMB-Solent are currently £105 - this is reduced by 15% by quoting "Good Morning Britain New Year New You" at the time of booking. 
The Colour Consultation will last approximately 1.5 hours. 
This discount applies to Colour Consultations only book by 6th February 2015 and used by the end of March 2015