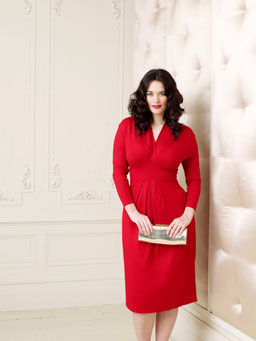 When it comes to looking good, it's not your size or shape that matters, it's the fit of your clothes. 
I was fortunate this week to be working with some VIP Clients this week at the Phase Eight West Quay Sale Preview Event, so this blog seems the perfect opportunity to explain a little more about picking the perfect Dress. 
This season there is a multitude of dresses in every possible colour, shape and style personality. But be careful out there it is a minefield!
In today's blog, we're going to feature on one element - Body Shape.
By knowing your basic body shape and understanding the guidelines for choosing the types of clothes that will accentuate your good features and minimize your less-than-perfect areas, you will be able to dress in the way that suits you best.
At this time of year you will be thinking about your new party dress and with so much choice, you need to start by knowing what suits you.  
When choosing your dress your aim is to create the illusion of having a balanced body – in proportion on the top and the bottom.  So, once you know your body shape you can make sure choose the styles that flatter your figure and avoid those that don't.
Which Dress Shape is PERFECT FOR YOU?
Neat Hourglass
Lucky you! You have a balanced body with your top and bottom half in proportion so you can wear pretty much any dress shape but ideally you want something shaped. Choose a dress that will show off your body with a dress that defines your waist, enhances your bust and highlights your hips and bottom.
Full Hourglass
Wow! You have the most feminine body shape with full curves in all the right places. Choose dresses that are fluid and shaped so you can accentuate your curves rather than cover them up.  Think wrap, bias or soft pleats.
Triangle
Great! You can bring all the attention to the top half of your body.  You are often referred to as pear shaped, so with your choice of dress  you should aim to accentuate your bust and minimize your bottom and hips.  Think embellishment on the top and no detail on the bottom half.  You might even prefer separates.
Oval
Brilliant! Proportionally you have a flat bottom and hips. Your problem area is your central torso, so, wherever possible use accessories to draw the eye to the area above your bust and below your hips. Your aim is to give the impression of a slightly longer body.  Choose something A-line, wrap or a drop waistline.
Rectangle
Lucky you! You are the one with the flat hips and a flat bottom. However, some rectangles will also have a fuller bust, which gives a softer edge to their shape.  Your main aim is to soften those edges even more and create the appearance of curves.  Choose simple, straight lines or shift dresses.
Inverted Triangle
Magnificent! You have great shoulders – halternecks are made for you, To balance the upper and lower parts of your body, you need to highlight your hips and bottom, focusing all attention below your waist.  Go for simple straight lines, shift dresses or choose separates.
So that makes it simple - Right?? 
Actually, it's never quite that simple, some of us have split body shapes so we may be a full hourglass top and then a triangle bottom half, which can often make us wonder why certain styles don't work. 
Unfortunately we don't all look like the model in the shop window or the photo on the website... but we can all look fantastic. We are all unique and we all have our very own unique personal style too! it's never easy is it?
If you would like to find out all your answers - how about having a Full Image Consultation with Lesley Wrankmore at CMB-Solent, we can even add a personal shopping session at a suitable store or location so that we can even find you the PERFECT DRESS too.