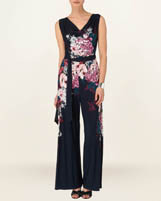 Well summer seems to finally be here (fingers crossed) and so are the sales!!!
The beautiful sunny weather has seen us all heading into our wardrobes and grabbing our old favorite the Maxi Dress - but I wonder if we are all missing a trick?
Gone are my days of having stick thin legs and not an ounce of cellulite to be seen, and indeed its replaced with that uncomfortable feeling (yes I think you know the one I mean) when you reach for summer skirts.
But this season,  the sales are full of simply stunning secrets!!
Yes, the Jumpsuit!!!!
I always felt they were the firm territory of stick insects that really didn't need yet another option! But with my training and hours playing grown up dressing up with clients doing personal shopping trips, I have realised that that is not thee case.
Hallelulia!!!
Whether you are going to cocktails on the lawn, a formal ball or indeed the glamorous catwalk of the school playground - then there is a Jumpsuit that is perfect for you.
This Phase Eight one is just one of many, that we have forgotten to even look at in the shops, but believe me, they are about to disappear when everyone realises if you have curves then go and try one on.... but not before I've chosen mine!!!!!
Don't forget - if you want help or advice choosing, I'm here to help. I can be with you, a photo away or we can do internet shopping together. 
Have fun and remember I'm here to help!!!