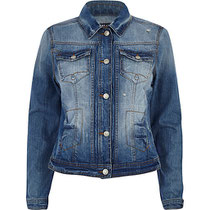 Denim is durable, comfortable, sexy, stretchy, stylish and here to stay.  Denim is part of every woman's wardrobe, whatever her age.   This season's looks are not just about your favourite jeans, however, the skirt, jacket and various other denim pieces are yours for the taking. We are also seeing a return of different textured Denims, Lightweight, stretchy and fabulous colours!
Denim Jackets are the new Biker Jacket - You can put on your denim jacket and feel confident that you are spot on trend.  A denim jacket is like your best friend and is the ideal Spring/Summer cover up. It's soft and comfy, lighter than a leather (biker)  jacket and goes with pretty much everything. You want to get the right shade of denim, somewhere mid-wash works for everyone and will be more versatile.
For the bottom half you can go for darker denim, infact the darker the better. Mid to dark denim looks more current and is more forgiving on curves.   Just find the right cut for you whether A-line, pleated, pencil, mini or midi.  Be careful with the weight and stiffness of the denim, you want it to fit comfortably and flatter your figure.   The longer length styles are a great staple for spring and summer. You will be a bit more restricted with the mini in terms of where you can wear it.
You will also see smocks and shirt dresses which are super versatile pieces to have in your wardrobe (see link to an earlier blog on the shirt dress at the bottom).  Other creation are boiler suits and bikinis – not so versatile and you probably want to avoid them altogether! We have even seen fabulous Stretchy denim dresses in Phase Eight - they are amazing on the hanger but better still on Bodies!!
The season's denim pieces are available in every price band and more expensive isn't necessarily better. Find what suits you, your budget & your lifestyle.
To find your perfect colours for denim, why not have a colour consultation - Lesley will help you refresh your wardrobe ready for summer and (hopefully) some sunshine x
Jacket - River Island