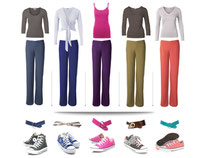 I surely can't be the only one who struggles enormously with that in-between season, when my feet gently bake in my chunky winter boots, but flip flops spell frostbite or wet feet!
This year, that problem is neatly resolved by the luxe sportswear trend that is still going strong this year after really getting into its stride last Spring/Summer. Yes, trainers are officially cool again! At the recent Spring Fashion Fix in WestQuay, Sports Luxe looked fabulous amongst the global and floral trends and much more wearable than previous sports trends. You can put this look together with a neutral heal - or you can go for the full Fashion look and add this seasons coolest 'trainers or Pumps"
If you want a heel, you can't go wrong with wedge trainers – the ultimate is made by Isabel Marant (just don't look at the price tag), but Ash have cornered the mid-range market, and cheaper versions can be found in the likes of Next and New Look. Great styled with skinnies and skirts.
The flat trainer brand du jour is New Balance, with a huge range of colours in a handful of styles that will work for a variety of seasons and clothing styles. They have been spotted on the feet of fashion bloggers and fashion editors alike, both of whom have gratefully leapt on a trend that can actually be worn in real life.
Just be sure that the rest of your outfit isn't so casual that it looks like you actually forgot to change after the gym. Finally, of course, no trainers post would be complete without mentioning the classic Converse - not quite as high fashion as the alternatives, but totally timeless. I am loving the thought of a pair of Converse with Kettlewell palazzos for easy school run chic - especially my totally sparkly sequin ones!!
Do you struggle to fill that seasonal gap between boots and sandals? Converse are a great solutions - the hardest decision will be which colour!
Thanks to Kettlewell for the inspiration with this article and School Mum Chic :)