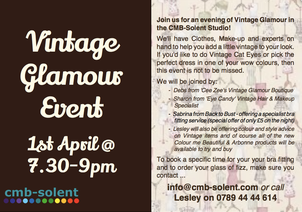 Join us on Tuesday, 1st April at 7.30pm for a totally free, but extreely GLAMOUROUS evening!
We will be joined by:
Cee Zee Glamour Vintage Boutique
Eye Candy - featuring flawless Vintage makeup, how to wear our fabulous new RED CARPET lipsticks and get the Vintage Flick!
Colour and Style advice to ensure your Vintage look is fabulous
... and to ensure the perfect ground work is in place.... 'Back to Bust' will be on hand to make sure your underwear it fitting correctly.
This event is totally free and open to everyone, so we look forward to meeting you. For location details, and to book your place please give us a call on 0789 44 44 614
See you on Tuesday xxxx