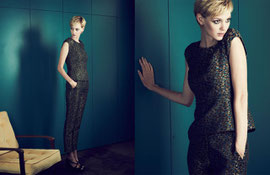 This year retailers seem to be really stepping up there game to stand out from the crowd!
With so many trends towards heritage fabrics, textures and patterns, the stores and online companies seem to be really working hard.
No new-commer to trend setting is Boden, but have you seen how they are transforming themselves? For many years boden has been bright colours and great at statement pieces, but very natural with their textures and style personality. This photo highlights their dramatic change. Definitely a more glamorous feel with sumptuous fabrics and textures and a fabulous spin on this Seasons Trouser Suit!
If you haven't checked them out for a while, Boden is definitely worth another look!